Good morning. Rise and shine it is time to buy painting supplies. I don't know about you but love to get painting treasures in the mail.  Here are more links. We will see how it works with my typing.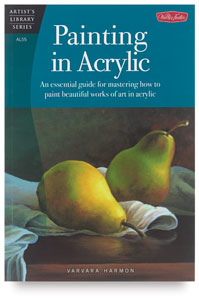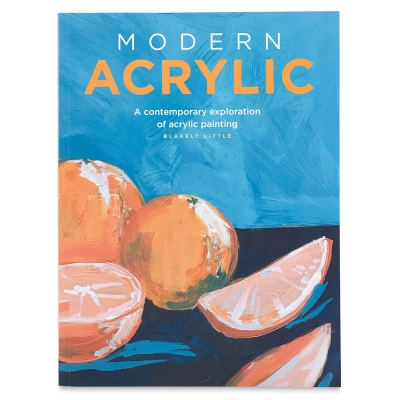 I love to learn from books because I don't have to keep pausing a video.  And if you want to keep it forever you can. I know for me, if I haven't done something for a while I forget how to do it. I am 63 years old and the memory is not getting any better. Next, I will find you one of those stay wet pallets. I have one and would not do
without it. I put the colors I need in it and have it for the entire painting. Cheap and fantastic. I need to tell you I am an associate of blicks, and if you follow one of these links and purchase then I will get a bit of commission.
Here is the Sta-wet paint pallet.


Blick Studio Acrylics – Set of 6 colors, 120 ml tubes
Sorry the image had issues and made this page a mess. But with 6 primary colors, you can mix all colors. Color mixing is a good skill to learn. That way you don't have to buy all the paints. And second, many times you are not going to find the color you want.
And this is a start-up kit, just in case you haven't tried this before. Blicks carries a multitude of different Brands of paints and in different price ranges. I will put up a couple of different colors of each brand. I order some colors I needed. And I bought brands I hadn't  Then you can look for the color you want. And it does good to try a different brand once in a while. Then you will know what brand you like best. These are the little bottles like you can pick up at Walmart or Michaels.

DecoArt Americana Acrylic Paint –
In all colors. but I will share it twice. They go to different colors. Then when you get there select the color you need.
DecoArt Americana Acrylic Paint –
Tri-Art Finest Quality Artist Acrylics – Viridian Hue, 120 ml jar
-This one is a bit expensive but you do get a good amount of paint.
Chroma Atelier Interactive Artists' Acrylics – Jaune Brilliant, 250 ml jar
-The chroma paint has a unique property, you can go back after it has dried and rehydrated it so you can blend it with another color.
M. Graham Artists' Gouache – Cerulean Blue, 15 ml tube
-This is a highly pigmented paint for professionals. There are no fillers just highly pigmented bright pure colors. Any "professional" paints tend to be expensive.
Utrecht Artists' Acrylic Paint – Brilliant Blue, 5 oz tube
-Made in Brooklyn, New York. are treasured for there brilliance, longevity, outstanding lightfastness and Rich texture.
Utrecht Artists' Acrylic Paint – Cadmium Red Medium, 5 oz tube
-Here is another Utrecht paint. They have perfecting their paints for years. 5oz. is 150ml.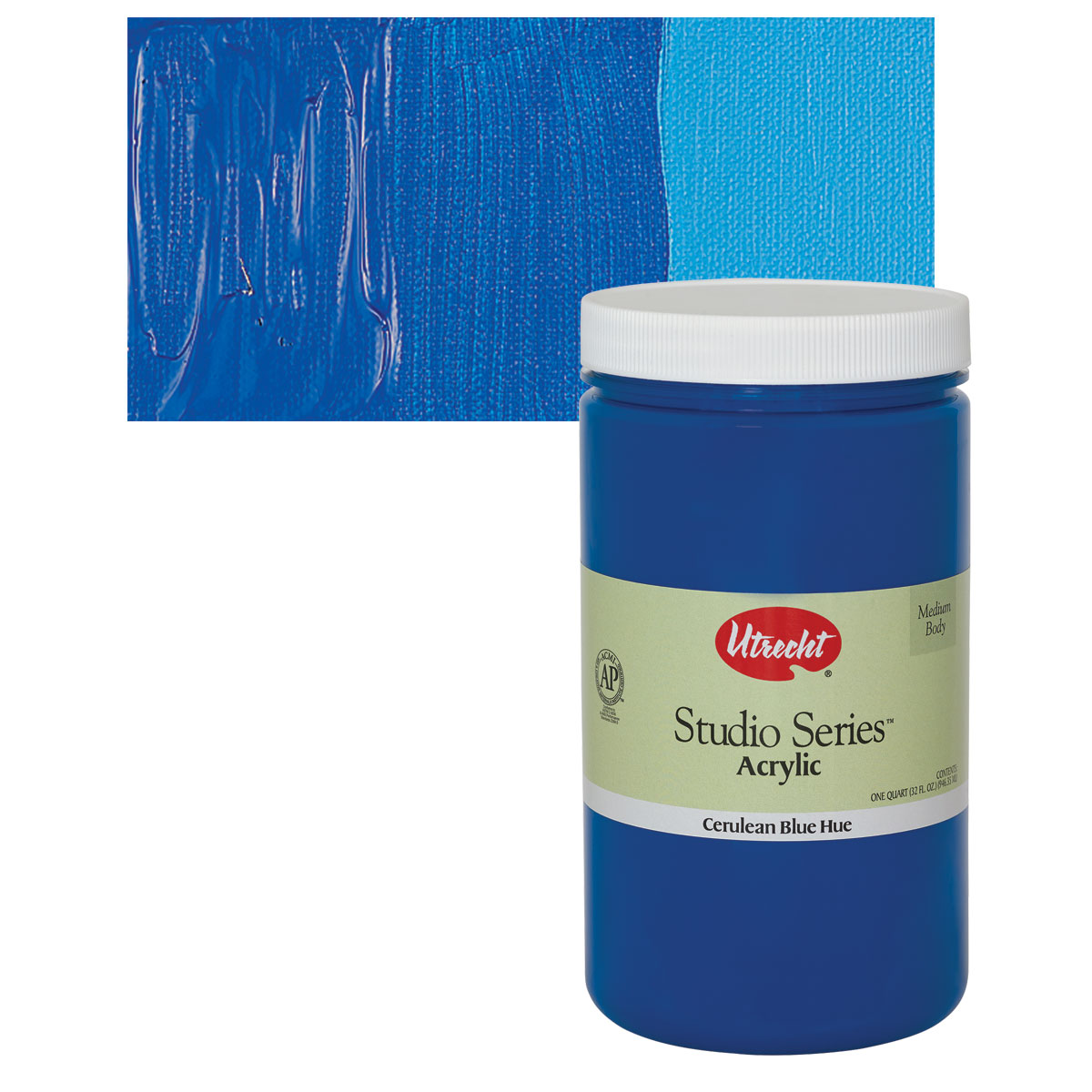 -And they have paint in a lot of different sizes.
Pebeo Mat Pub Acrylic Paint – Permanent Green, 500 ml
-Right now it is 41% off list price. So that is a really good deal for 500 ML. jar.
Montana Gold Acrylic Professional Spray Paint – Paris, 400 ml can
-Spray paint because artist come in all mediums.
Chroma Acrylic Mural Paint – Glam Rock (Gold), 16 oz jar
-I did a few murals in the past. You need paint that colors well. You don't want to go back and do a second coat.
Decocolor Acrylic Jumbo Paint Marker – Green
-This is a jumbo marker. Some items are hard to find. And a marker the size you need is one of them. Blick carries a bunch of different sizes.
Decocolor Acrylic Paint Marker – Light Green
-Another marker, different size
-Next, I used the picture instead of the text and left it big so you can read it. It is a very good item to have if you have never used mediums before.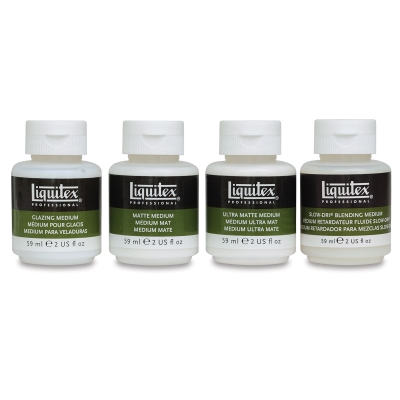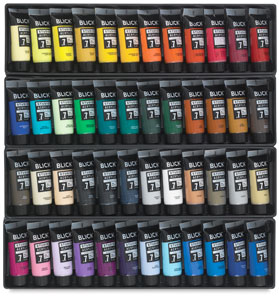 They carry their color kits in 6, 12, 24, 36, and 48 colors. Wow!   Just click on the picture. it is your link.
Now I will go look at brush sets and see what I can find generally you do not want natural hair for acrylics. They are entirely to whimpy. Use a good soft not stiff man-made fiber brush. This first set is on sale now but is kinda spend at list price.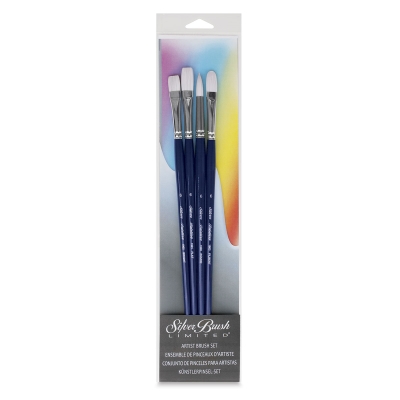 Loew-Cornell Brush Wrap Set – Oil/Acrylic, Set of 18
This is a nice set. Meant for beginners, is wrapped in a cloth organizer and the price is economical.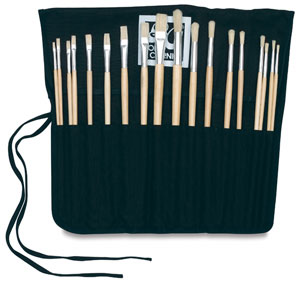 Robert Simmons Titanium Brush – Filbert, Size 6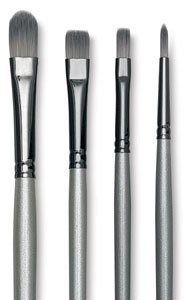 That is about all I will post today about blicks. I have another vendor who has an equally impressive line up of products. And I will be covering that next in my post for tomorrow. Please leave a comment below.
Please leave a comment and share us on social media.